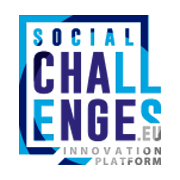 The Social Challenges Innovation Platform is a powerful European online ecosystem that fosters interaction between social innovators and SMEs for joint development and the adoption of sustainable technologies and marketable innovations with a clear social impact.
The platform aims to be a social innovation market, where public authorities, private companies or sector organizations can publish and give visibility to the social and environmental challenges they wish to solve. At the same time, social innovators and entrepreneurs from all over Europe will be invited to propose innovative solutions.
The objective is to promote broad social participation, social entrepreneurs, new small and medium enterprises to identify, develop and test concrete solutions for these needs, provide grants and support, focused on the translation of challenges in marketable practices and solutions.
SocialChallenges.eu will be based on a network of strategic nodes throughout Europe that will provide on-site support to users and stakeholders of a power platform.